October 2022 update: the Council is proceeding with the scheme, with enforcement resuming November 17 2022, and further works being carried out in 2023. See the decision here.
The Streatham Hill Low Traffic Neighbourhood (LTN) was introduced to reduce traffic volumes. By reducing traffic in the area, it is hoped we can achieve priorities of our Transport Strategy, including:
Improve road safety for all users
Encourage travel in healthier, more active ways
Support the local economy and placemaking
Improve air quality
We all need to take bold action to reduce car journeys where possible, to improve the borough's air quality and tackle the climate emergency.
Planters, signs and enforcement cameras were used to create a series of five 'filters' across the area in August 2020.
'Filters' stop motor vehicles cutting through a defined point, however individuals walking, cycling and wheeling can still pass through, as can the emergency services and refuse vehicles. All destinations within an LTN remain accessible by motor vehicle however the route to each destination may change.
Stage 2:
By trialling the LTN schemes we can respond to community and stakeholder feedback and make changes / improvements as the need arises. Originally the LTN did not include traffic filters in the area to the south of the railway line, but feedback from residents and their ward councillors made it clear that these were required. We implemented additional filter in this area in May 21, bringing the area bounded by Leighham Court Road, Leigham Vale and the railway line into the LTN. This additional area covers Hitherfield primary, Dunraven school and Mount Earl Gardens Estate as well as other local streets so that they can benefit from the scheme.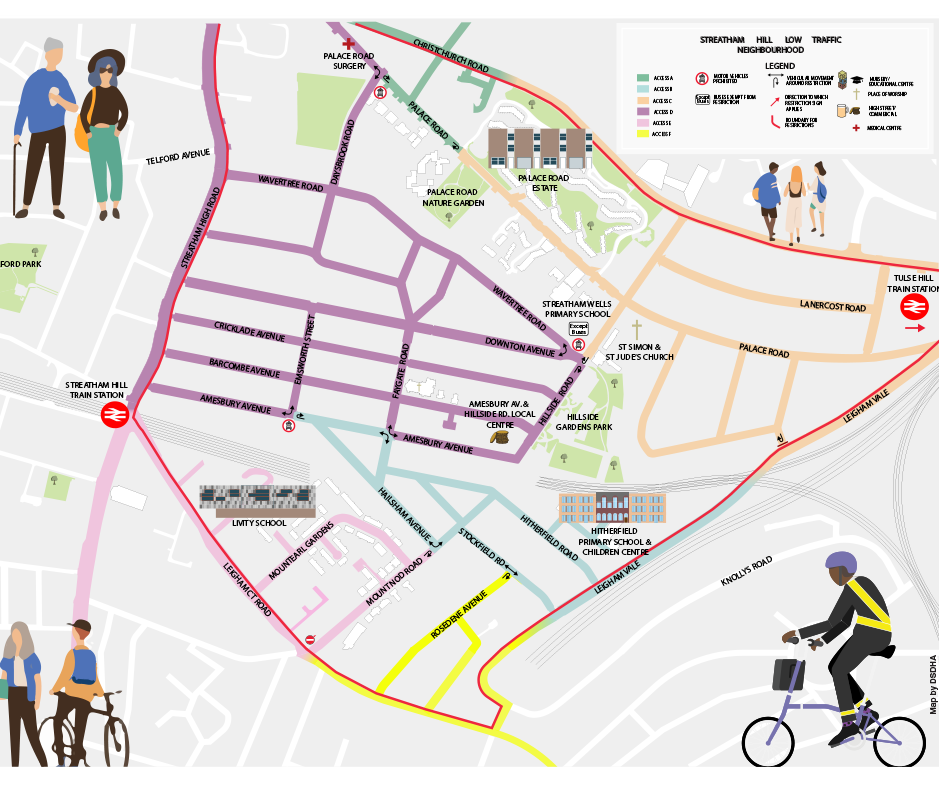 The wider context:
Lambeth's 2019 transport strategy sets out the priorities for the local transport network:
Sustainable Growth: As we recover from the pandemic, transport has a critical role to play in enabling the new homes we need and in ensuring that Lambeth continues to thrive with the creation of new jobs and investment in our borough. We need to ensure this recovery and growth is not car-led.
Inclusive and Accessible: Many of our roads have been designed without considering the needs of people who do not drive. This includes young people, disabled people, and elderly people. We need to make it easier and more comfortable for people walking, wheeling and cycling and prioritise road space for those who rely on their vehicles.
Efficient and Connected: We know we have limited space and as we plan for the future, we need quick and reliable routes to travel around Lambeth.
Active and Safe: Transport is both a cause and a potential solution to serious public health issues. By discouraging through motor traffic on local streets we can reduce the amount of road danger, reduce the risk of poor health due to exposure to poor air quality and encourage people to incorporate more exercise into their daily routine.
Clean Air and Carbon Neutral: We need to move swiftly towards carbon neutrality by 2030 to respond to the climate emergency we face. In 2021, Lambeth's citizen's assembly published recommendations for all in the borough to tackle the climate emergency. The recommendations for transport were:
To reduce the number of journeys made using private vehicles
Organisations across the borough should encourage and enable cycling through development of better cycle routes and cycle storage. Lambeth Council should co-ordinate this.
Businesses and other organisations in the borough need to take full responsibility to immediately start operating with green transport methods. This includes the Council and their fleet of business vehicles.
Lambeth Council should work together with all other key transport actors, and representatives of vulnerable groups, to ensure more vulnerable groups can be supported when any changes to transport in the borough are introduced.
What has happened so far?
The LTN was introduced as an emergency measure during the pandemic in August 2020. The main objectives of the LTN programme are to achieve:
A reduction in through motor traffic within LTN areas; and
An overall reduction of motor traffic across the area, when considering boundary roads and the inner area together.